MY PERSONAL BIO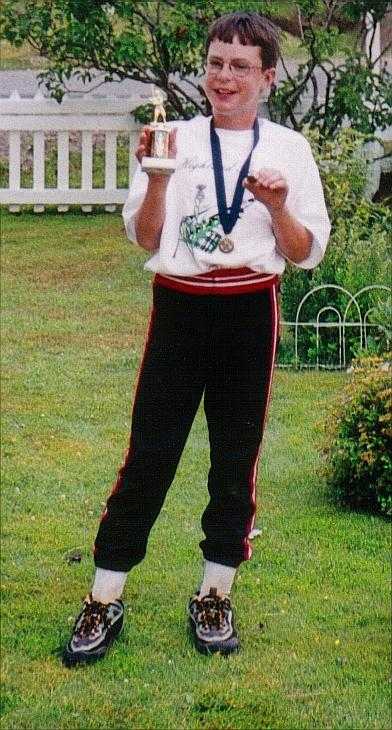 This is me, Mike Mac Isaac last August after the Inverness Ravens won a province-wide tournament, the Antigonish Highland Games. Im a 12 year old boy from Inverness, Nova Scotia, Canada. I LOVE BASEBALL! I'm a baseball FREAK! I also like to play....baseball......baseball......and did I mention baseball? The reason I'm holding a trophy is because I was the MVP of the championship game. We had a perfect record in the tourney (4-0) and we were in the championship game against the Westville Blockbuster Braves, who we defeated earlier by a landslide. (11-1) But it was the 4th inning (we play 5 innings) and we were down 7-0. It was my at-bat, and BOOM! Home Run! 7-1! The next and last inning, it was my at-bat, and BOOM! Home Run! 7-3! We tied it up at 7. Jason Clarke was at bat, and Shamus Campbell was on 3rd. Jason Campbell hit a sizzling single, and Shamus was flying home. He slides in at home...................................................SAFE! The cather dropped the ball! We came back in 2 innings to win the game 8-7! And that is the story of the tournament. And you see that little dark circle in my other hand? That's the home run loonie. My father, Michael Mac Isaac invented it. Whoever got a home run got the home run loonie. And whoever had it at the end of the tournament, they keep it until next year, and the tradition continues. And I ended up with the home run loonie!

Name: Mike Mac Isaac
Age: 12
Birthday: January 31, 1988
Current Residence: Inverness, Canada
Hobbies: Baseball, baseball, baseball
Pets: 1 cat
Nickname: Psycho
Position in baseball: 1st Base

Visit the web site of my hometown, and learn more of where I come from.
Email the WebMaster at: sportsdude@baseballmail.com