FEATURED PLAER OF THE WEEK: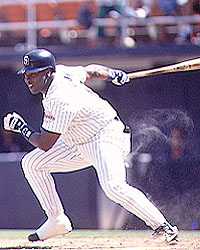 VITAL INFORMATION

Date of Birth: 05/9/60
Place Of Birth: Los Angeles, CA
Residence: Poway, CA
Height: 5"11
Weight: 220 lbs.
Bats: Left
Throws: Left
Years in Majors: 18
Position: Right Field
Team: San Diego Padres
JOURNAL
Subject: My 3,000th Hit
Location: New York City
Journal Entry:
It's been amazing. I'm spending some time this morning at
our hotel in New York, signing baseballs and reflecting on
the "road to 3,000 hits." I've been getting notes, e-mails,
telegrams and cards from all over the country the past
several days. People I haven't seen in years have been
tracking me down to congratulate me. Last night I even got
a standing ovation at Shea Stadium of all places. You just
don't expect something like that to happen.
You imagine what it will be like to get that milestone hit,
but you never really know what it's like, what kind of
impact it will have, until it really happens. I came to realize
last Friday night that 3,000 hits is a huge, huge thing. I'm
happy and grateful that I had the opportunity to experience
this, but now I'm exhausted from it.
I've been trying to deal with all of the extra attention to the
best of my ability. You need to be patient because you get
asked the same questions over and over again, but you
realize everybody has a job to do so you try to accomodate
people. Overall, I think I've done a pretty good job with it.
Yesterday, however, I told our public relations staff that I
wanted to take a day off from the media to concentrate on
baseball and get my focus back. It was the only day I've
taken off during this whole period, but evidently some of
the media people got upset and bent out of shape. It shows
you they can sometimes take you for granted. I've been
coming to New York for 18 years and responding to just
about every media reques. Then the one day I don't, I get
taken to task for it. They are entitled to feel that way, but
I'm entitled to do what I need to do, too. Baseball is my job
and I needed a day to concentrate on baseball.
You hope people can respect your wishes, but I can't
worry about it if they don't.


OTHER

Tony has the third-longest active tenure with one U.S. Major League team. Tony has spent 17 years with the Padres.
Contact the Webmaster at: sportsdude@baseballmail.com